Something to be Proud Of
Saturday 21st saw the Intermediate section gather at HCGC for the relaunch of the Taylor Trophy, courtesy of Sue Taylor. Last played for in 2010 when a junior competition, the 18 hole trophy is engraved with previous winners Ben Woodford, Andy Case, Kieran Burgess, Will Aimson and Alex Kerr. With the exception of Alex, all others have left and returned to the club this year.

The late Brian Taylor would have brimmed with pride at the 17 entrants to the Saturday Stableford.

The year started with 8 intermediates and we are now up to 27. If you have any reservations about the quality of our youngsters, spend some time with them and let me know what you think after! We have bankers, accountants, business people, teachers and apprentices. I would stake my reputation on them all.

Sue took time to say 'hello' and present the trophy and prize money. Sue and Brian have always been great supporters of youngsters and she was brimming with pride with the quality of all 17 who made it on Saturday. These lads have supplemented our teams this year and after the event on Saturday we discussed ways of supporting their events for the coming season.

I would like to say a big thank you to Sue for coming along and supporting the youngsters. I would also like to say a big thank you to Richard Gibbs who has offered to reallocate the Castle Cup to the Intermediate section starting next year. Thank you to Kristian Gaffney-Dodds for donating the beers for the evening even though he couldn't make it.

Finally a huge thank you from me to Tom Riley, Simon Watson and Matt Sadler for everything you have done this year. You are first class lads and this is a better place for you being here!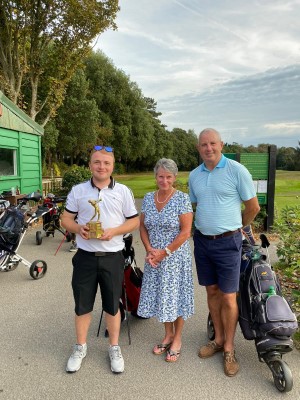 The winners on the day were;

3rd 36 points (on countback) Jack Hardman
2nd 37 points Alex Kerr
1st 46 points Ollie Anderson
With a handicap off Ollie has been playing a lot of late. After much practice followed by a short break he finally has his reward with an outstanding round in a qualifier!